Money Back Guarantee
Free US Shipping orders $50+
100% Secure Checkout
Customer Reviews
Write a Review
Ask a Question
Just perfection.
I love my beautiful beads. Made with love and care and so comfortable. Easy to wear. Just perfection. The guys at Lovepray are so kind and helpful too. True Angel's.
Love it.
My only source for mala jewelry. Love this company.
Pretty, amethyst darker than pic
This bracelet seems to be well made. It looks like the picture however the amethyst beads are quite a bit darker than what is shown. Next to the Onyx beads I would have hoped for the lighter amethyst as depicted. Otherwise I really like it and it's as advertised. You should know that it's a stretch wrap bracelet / necklace, I wish I had known. The gemstones are real and the quality seems very good.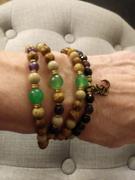 Absolutely beautiful. Light enough to
Absolutely beautiful. Light enough to wear as a bracelet. Goes with everything!
Thank you, would definitely recommend this company to anyone...
Beautiful, many compliments. Well made, shipped and received timely.