Money Back Guarantee
Free US Shipping orders $50+
100% Secure Checkout
Customer Reviews
Write a Review
Ask a Question
08/13/2020
Kathy O.

US
Beautiful
As always the craftsmanship from Lovepray Jewelry is exquisite! I have never been disappointed by any of the many items I've purchased
08/13/2020
Lovepray jewelry
Thank you for your review! We are so glad you liked your Carnelian and Turquoise Ankle!
07/18/2020
Claire M.

US
Beautiful and well-made
The changes, they are a coming, so it's good to have a reminder. I bought this & the Dalmatian Jasper and I wear them 24/7. My daughter loved this one so much she asked me to get her one before she leaves for college (Covid-willing). The colors in the photo are accurate, the sizing is good (I got the small), and the fit is loose so it's not like wearing a choker for your ankle. ❤️️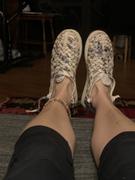 03/01/2021
Lovepray jewelry
Hi, we love your review!!! Thank you!!! Enjoy your Lovepray Jewelry!!! Light and Love!!!
07/27/2019
Jane R.

US
Love!
Absolutely beautiful craftsmanship and excellent service. The "motivation and change" drew me to it and I couldn't be happier that it did!
06/24/2021
Lovepray jewelry
Hi Jane, Thank you for your support! Please come back soon!