Money Back Guarantee
Free US Shipping orders $50+
100% Secure Checkout
Customer Reviews
Write a Review
Ask a Question
12/18/2018
is a.
development and positive change
Love it
I wear this as a bracelet. I ordered it for my birthday and it seemed it would be bit late in coming. I wrote the company and they sped up the shipping so I got it the dy before my birthday. The peop le were kind and wished me light and love. The bracelet is too big so I plan to send it back after the holiday to get it custom sized. The colors are perfect and match the earth and the sky in which I am part of. High quality materials too. S Highly satisfied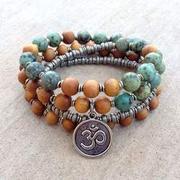 new possibilities and new existence. It is a stone of change and evolution. Om: represents the past
Well Crafted & Beautiful
This bracelet is beautiful. I ordered a size down based on previous reviews but I've found that the small is too small for my wrist. I would therefore say this item is "true to size". I have sent in a request for an exchange. It's been a week and I have not received a response. This is the only reason I have given a four star review. Otherwise, The packaging and delivery were as spot on and as beautiful as this mala is. I look forward to getting more!
African turquoise 54 bead Mala
I bought 2 bracelets as gifts for close family. The bracelets were very well received and they were just as impressed with the jewelry as am I. I'm a devoted Lovepray enthusiast and I wanted to share my love for the gorgeous and well made body art.
Love my bracelet!
It is a beautiful, great quality necklace/bracelet, and I will probably be back for more. Reasonable price and fast shipping. Happy customer =)
Wonderful
Gorgeous! I'm so happy with my purchase, I'm currently saving up to buy more!